Here it is! My first blog post after being with 1MMAGC for 1 ½ years. I'm Shannon and I am from Minnesota. I am a working/stay-at-home mom of a 3 year old boy. Who doesn't like gear? I know I do. So in my blog posts I will be doing reviews of different gear, especially gear for women. For my first post, I am going to review the Alien Gear Cloak Tuck 2.0 IWB. As a concealed carrier, I have had a couple of different holsters. This one by far is my favorite.

The Alien Gear Cloak Tuck 2.0 is an IWB holster that is lightweight, has a thin backing, and has a soft neoprene body-side layer. It also contains an ABS polymer core and is waterproof. It comes equipped with nylon or steel clips(your choice) and is priced at $35.88 before shipping.






As a woman, conceal carrying, the ability to conceal my gun regardless of what I am wearing is important. I love that this holster allows me to wear what I would like, for the most part, without having to worry about if I am printing or not. It is comfortable to wear all day, due to the soft neoprene lining, and I almost forget that its even there. I can comfortably carry all day without it feeling heavy or worry about slipping down or getting loose during whatever it is that I am doing. The flexibility the material has makes it so that I can comfortably carry in more than just one position, if it suits me better on one day compared to another. There is no definite shape that it will be stuck in like you may run into with an all leather holster.



Not only do I love my Alien Gear holster, I love that they stand behind their product and their warranty. You are able to take a 30 day test drive of your new holster. If you don't like it, they will buy it back, no questions asked. They also provide you with free shell trades for life. So if you change your gun, you simply just send them the shell and they will send you back the correct one for your new gun. They also have a lifetime warranty, in which if anything breaks on your holster they will repair/replace it for free.



My husband also has a couple Alien Gear holsters. He has their original IWB, and he just recently purchased the Cloak Tuck 2.0. He loves them both, but he did say that he prefers the 2.0 because it molds easier to his body than the original. He also likes the neoprene lining and he doesn't sweat as easily when it is against his skin.

Overall, I think that the Cloak Tuck 2.0 is an excellent choice for an IWB holster. It is at a reasonable price, with a fantastic warranty, and suits the needs of men and women conceal carriers alike.
Powered by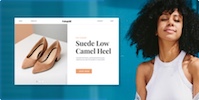 Create your own unique website with customizable templates.